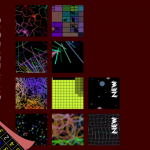 The most relaxing and enjoyable app on the Windows Phone Store. Simplefects has 18 visual effects controlled entirely with your fingers. Each effects can be modified using options. Visual effects are very different in their nature. Some of them are using particle effects.
You will not find similar app in the marketplace. Simplefects app is both simple and fun. This app will give you distraction from other apps/games. This will be a break in yours daily routine.
Any feedback please emails us, because we can't reply on comments. Thanks very much for all your support in our games and apps!
version 1.5
-Five new effects added
version 1.4
– Three new effects added
– Social links added
– Some bugs fixed
version 1.2
– Two new effects added
version 1.1
– Two new effects added
– Some bugs fixed
FREE version
PAID version