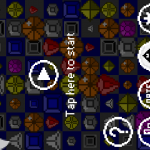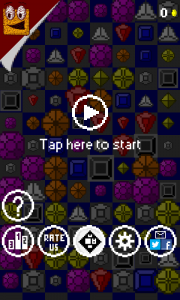 Retro Jewels comes to your phone now! Try this game and you won't be sorry!
Any feedback's please email us, because we can't reply on comments. Thanks very much for all your support in our games!
It is no like other jewel elimination games. It is a brain teaser that requires fast reaction and strategic thinking. Think strategically what to buy in the game shop, use power ups, change jewel order, "maybe" you will have a chance to make it to climb up the Leaderboard.
Beautiful retro graphics, addictive and smooth gameplay and awesome retro sounds make Retro Jewels an addictive game and it is a great way to kill time!
Retro Jewels is a simple but exciting match-3 puzzle game for your mobile phone. Simply place three, four or five jewels in a row to blow away the jewels and get prize points and coins. Use coins to buy tools in the shop. Use different tools to clear gems or special gems like ice-gems, mud-gems, chain-gems.
Game features:
– 17 tools
– 9 different color gems to match
– online leaderboard
– 5 types of gems
– infinite number of levels
If you like Jewel Buster, Bejeweled Blaz, Jewels Legend, Jewels Deluxe, Star Gems, Where's My Water, Angry Birds, TETRIS, Cut the Rope, Plants vs. Zombies, Gems With Friends, Scribblenauts Remix, Flow, Fragger, Draw Something, What's the Word, Doors, Ragdoll Run, Flow, Wordament and other puzzle games, you should not miss this game!
Try to make the optimal moves. Bust jewels out as many as you can, it's that easy! You will be amazed that Retro Jewels can be this fantastic!
Version 1.4
– social links added
– save game issues fixed
Version 1.1
– some bugs fixed
– leaderboards are now split into daily/weekly/all
– added email button
– bonus 100 coins after each game
FREE Version